"And you shall love the Lord your God with all your heart, and with all your soul and with all your strength"…

The Sh'ma – Remembrance of God for the Home  "10 x 40"  Original Acrylic on Canvas
Three parts of the Sh'ma (Deuteronomy 6:4-9, Deuteronomy 11:13-21, and Numbers 15:37-41) comprise the most ancient prayer of Judaism. The three parts are written in Hebrew, then the two pages in the middle are English. The main verses layered over all of it… The Hebrew in iridescent blues reds and greens, English in white.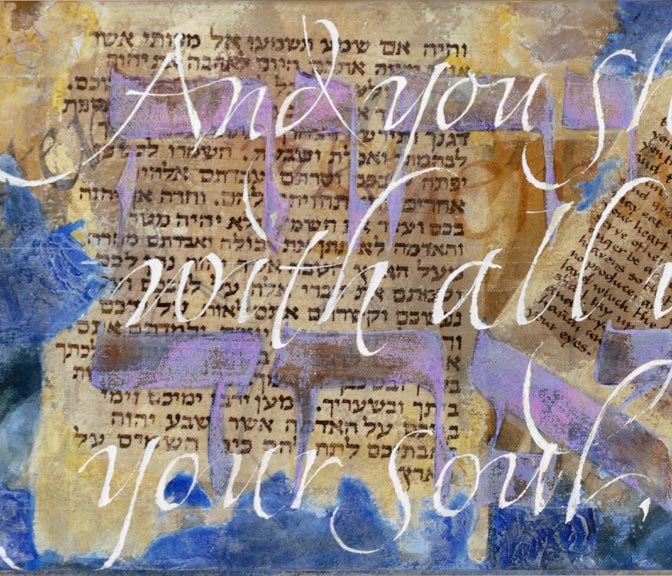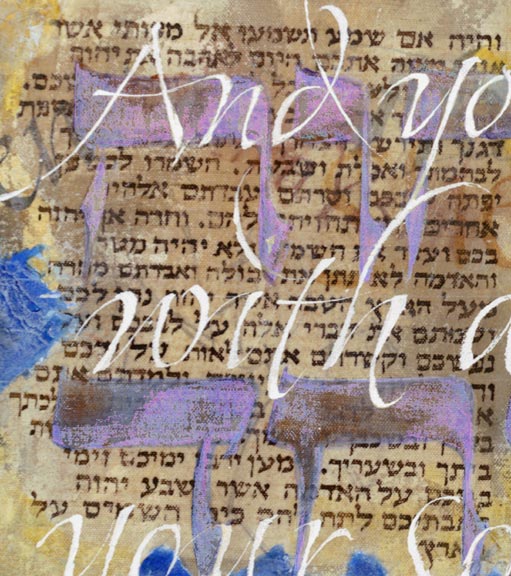 Characteristics of the Offering
"Giclee" is a digital high resolution fine art reproduction, the "state of the art" in the industry.
These fine art reproductions are available on canvas or paper.
Each limited edition print is signed and numbered by the artist.
A Certificate of Authenticity will accompany each print.
Commissions of individual Sh'ma paintings are available by commission.  Please connect directly to arrange an original.

Due to shipping costs, we no longer offer framing.

Please allow 3 to 6 wks for print orders.
For questions about pricing, shipping, or other information not covered by this page, simply copy and paste the title of the image into our "Purchase Artwork" page
Sh'ma  Paper Print
10″ X 40″ Giclee on Fine PAPER Edition limited to 50